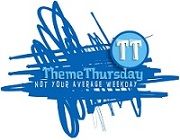 Welcome to my Theme Thursday post, at first I was excited because I thought it said C.P.K. and I could go off on Cabbage Patch Kids but then I read it again and it was different.
The other night The Trophy and I went on a date for her birthday, alone, with no Minions. We enjoyed a couple of adult beverages without fear of judgement from other patrons, we ordered food that we wanted to eat and the best part was...we ordered dessert. While we were at the restaurant we were attune to other people's kids or like the title says O.P.K.
Joking around at first, whenever a kid cried or got loud, we said to ourselves, hey someone shut that kid up but then we started realizing that kids are fucking obnoxious when you are trying to enjoy a night out together. They scream when they don't get the ranch dip with their chicken tenders, they whine because they have to sit for an extended period of time and they don't fucking care about the other people around them. Kids are little assholes when out in public.
We did something we never get a chance to do without the minions, we went shopping. We were able to go to Target and look at the things we wanted to look at, we went to Dick's Sporting Goods and were able to try on jackets and other things without the "This is boring" sighs and looks. While in these places we noticed O.P.K.s as well and they were over the top annoying.
Then we had the lingering question...are our kids seen like that when we go out? The answer is yes, yes they are. Despite the amount of "shushes" and "turn arounds" our kids are probably looked at like miniature ass nuggets and there is nothing you can do about it aside from the leave the Target cart filled with stuff in the aisle and leave the store...yes we have done that.
What is comes down to is your kids and O.P.K.s are going to be ass nuggets, it doesn't matter, don't be ashamed or embarrassed, go on with your meal or shopping. It's the people without kids that are making the scene but they need to remember one thing, they were once little ass nuggets too.
This is pretty ingenious actually, more places should do it.